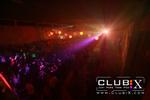 Ten weeks after last clubbing tour the brother of my wife initiated a second one. This time the location was at an old recycle sorting facility anywhere between Leipzig and Chemnitz. This year the parking chaos wasn't such big like the last, but it was definitely also one. The good think was, the access road was this year one way.
The party itself was bigger and there were 3 floors, a main, a techno and a discohouse floor. There were more entrances and a better air flow. In summary .. the organization was improved.
The most of the time I was hanging in the discohouse area with some short visits in the main floor. The music was really nice ... but with every party trip I think, there are coming more and more brained people into this scene. Another explanation maybe ... I´m getting older and seeing something from another point of view like some years ago, where I didn't mention such situations.
Anyways ... The LiquidSunday 2006 was a nice event and I think I will return next year, if possible.