After 5 years running a testground with several NetBSD releases I did shutdown lutz yesterday.
Lutz was a Zenith Data Systems Z-Server WX with DUAL P-100, 128 MB RAM and a SCSI Raid system.
The AC/DC was able to serve 525 Watt ... thats more than actual system have yet. :)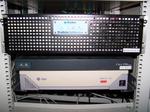 The new box for running NetBSD is pizza.cyconet.org, which is a Sun Sparcstation 20 (RT620/625 150 MHz, 64 MB RAM).
It's consuming less power and space. You can also see gandalf there.