Sometime it happens, that there are school holidays. As my lovely girl used to be a teacher, she has some time off at that period. So she left me with our kids yesterday to visit the grandparents.
It was two hours after leaving, when I was really surprised that I was sitting around and thinking about what to do next, as normally the weekend is family time.
So I decided to take my bike and a paper map to get of for a trip. Since some years, I usually use my bike to escort the girls or when going to work, which is just a 5 minutes ride, so I thought that would be a great opportunity.
I took a backpack with raining clothes, mounted the bike helmet on it, in case I needed to go cross country, some water and my music player.
It was a great ride, beside that I realized I'm not in the same condition as some years ago. Unfortunately this will likely not change in the next 12 month, as we have some projects in the queue we need to deal with. Hopefully we will solve that satisfactorily and have a bit more spare time afterwards.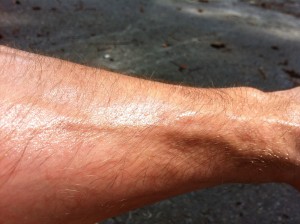 Anyways .. 27,65km in 1h40 is not so bad, as it was hot and humid.
Ride summary: