After visiting the great Deadmau5 concert of his Europe Tour in Berlin 7 weeks ago, I'm involved into a traditional cultural event on the technical side on the next weekend.
We are running the plattform for the online streaming of Lohengrin live from the Bayreuth Festival Theatre on Sunday, 14th August 2011. Usually we are coming together around noon and having a BBQ while keeping all the stuff up and running.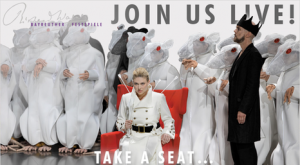 To get back into this millenium, we (yes, my girl and me) are at the Highfield festival the weekend afterwards. I guess you can find me at the "white stage" or at camp site. Keep on rocking!